Profile
---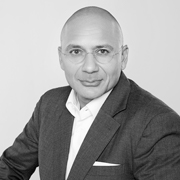 Metin Mitchell
Managing Partner
Metin is the Founder and Managing Partner of Metin Mitchell & Company.
He has been in Executive Search since 1992. He specialises in the recruitment of board members, CEOs and their direct reports. He has long and trusted relationships with a number of the world's most prominent family businesses, conglomerates, financial institutions and industrial companies.
He is author of What makes an Outstanding Saudi Chief Executive? and Roads to the Top for Saudi Women.
An international speaker, Metin regularly speaks at high profile conferences on leadership of the future, and encouraging more women into senior roles.
He previously spent 19 years with the US executive search firm Korn/Ferry International where his roles included Managing Director for the MENA region, Managing Director for France and Managing Vice President of the European E-business practice.
He received his business education from the London School of Economics. Metin has, for many years, been closely involved in a number of corporate social responsibility projects. He has also served as Vice President – MENA at Save the Children.