*/
Spotlight on leadership and cybersecurity in changing times
Metin Mitchell, Managing Partner, and guest contributors
Tuesday, 24 January 2017 14:02
Outstanding Saudi chief executives have to balance market risks and opportunity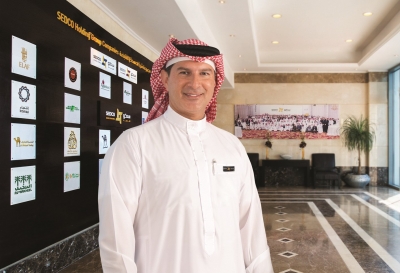 Guest blog by Mr Anees Moumina, CEO, SEDCO Holding Group
I was interested to be interviewed recently to share my thoughts on What makes an Outstanding Saudi Chief Executive. This is an important subject because if you look at the different areas and objectives that Saudi Vision 2030 is trying to promote, we will need excellent leadership to achieve these ambitions.
It is thought provoking to be asked for your views on subjects like this and I thought I would share my views in addition to my comments that are included in Metin Mitchell & Company's report on this topic – I have included the questions behind our discussions.
This is something I keep reminding myself, that as a CEO I now have to wear two important hats. One is looking at the market risk factors which have impacted payment collection, due to tightening receivables and credit sales. You have to put realistic figures to companies, so If you want to grow in a declining market, you can but if the growth is based on credit terms rather than cash then you may be surprised with credit problems after two or three years, and there lies the risk. The second hat is opportunity. Declining markets are often the best time to look at good deals. You have companies selling, so it could be the best time to buy. As a CEO you need to balance the opportunity and the market risk, especially when you have the cash and the appetite to invest in a declining market.

What are the different challenges facing a Saudi CEO compared with CEOs in the West?
I see the challenges for a chief executive as the same, wherever they are. A CEO is a CEO. A CEO should be trained to weather cycles and to deal with different regulatory environments. Challenge is an opportunity – that is how I look at it. In Saudi Arabia, you have regulatory requirements, you have to test the market, have good market knowledge through different organizations – these are the same challenges in the West. You have to know what to do depending on the market.
What is the best way to train and develop chief executives?
Ex bankers tend to have a faster grasp on a situation because you deal with different organizations. You look at the credit of a company and what is the critical success factor; you deal with boards, regulators, people with the most sensitive item – which is money. You need to have a broad vision. The challenge is when individuals move from a publicly listed company, which has standards, to a family business and that is a different question. This might be a company which is not internationally regulated and the challenge is risk. A lot of family businesses have very strong corporate governance – boards, processes, systems, KPIs, compensation procedures. I think one of the best ways to develop chief executives is to ensure they have worked in regulated companies.
Companies have to believe in developing their people. In a downturn market the first thing we see being cut is training, which is wrong. You need to spend more on training. We look at the weakness of an individual and then do proper training to address that. Our people have to learn to innovate, to try new things – invest in IT, go into greenfield activities. We also have to train in risk management.
How are we going to get more Saudi women in the boardroom?
Before we can have more Saudi women in the boardroom, we need more in executive positions. There are Saudi women in the boardroom but these are in family companies and where they are a member of the family.
Things are changing. We see progress in institutions and regulators are helping this – there is an abundance of candidates. When you have a vacancy you see both genders applying and if it is suited to hire a lady, according to the regulations, it is happening more and more. It is a good thing.
In our group we are in different businesses and have ladies working in different companies – in our hospitality business, our automotive business, our restaurants and in the pharmacy business. We welcome that.
Saudi Arabia is committed to change – what will be the impact over the next ten years?
Companies have to be dynamic, geared to change and rate of change. Business models are changing. There are proposed fees and taxes on hospitality items, restaurants, hotels and on labour, so the private sector has to get more involved and proactive with the economy. That is a challenge. This is where the dynamics of a company come in. If you want to get more market share you have to have the mentality of 'let's do things differently'.
What is your view on tenure of the role of CEO – assuming they are doing a good job?
Assuming they are doing a good job, then look at ways to retain them. Keep them motivated and challenged and compensate them. I think a minimum of six years as chief executive is needed – usually there is a term of three years, so have another term.
What are the particular challenges for CEOs in Saudi Arabia?
A lot of businesses in Saudi Arabia are family businesses. They have been started by the first generation and are now moving from second to third. Saudi Arabia needs to learn from other organizations how to move these vast family companies from one generation to another successfully, it is a corporate governance question. Without good governance, any problems at family level – such as splits between brothers and sisters – will affect a business model. You learn that from a bank – look at ownership.
The critical issue is to look at how transition is happening. Moving from fathers to sons – that is fine. But moving to the third generation – this is difficult and I worry about these third and fourth generations.
What advice would you give to chief executives in Saudi Arabia now?
Wear two hats: risk and marketing opportunities. Balance both. There are some opportunities in a declining market so take advantage of that.
Published in Chief Executive
Tagged under
CEOs
chief executives
leadership
Saudi Arabia
Saudi Vision 2030
SEDCO Holding Group
back to top