*/
Spotlight on leadership and cybersecurity in changing times
Metin Mitchell, Managing Partner, and guest contributors
Monday, 03 September 2018 12:58
Ease of doing business in Egypt – impact of economic reforms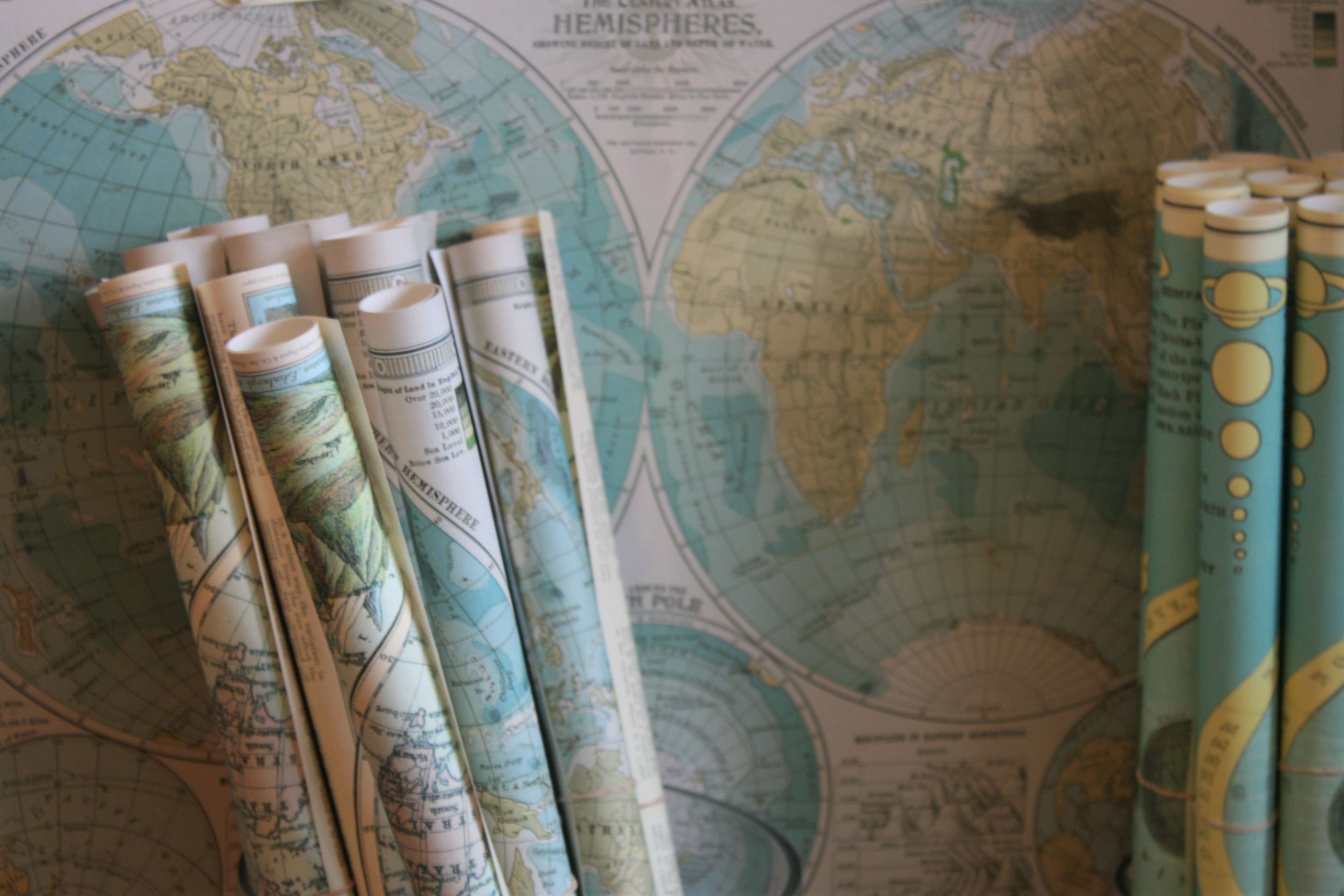 How easy is it to do business in Egypt – and does it matter?  I have been looking at Egypt as an area of growth which will provide opportunities for the country and also for executive talent to maximise the potential of this market.
The 'ease of doing business' is an important factor in terms of attracting external investment and opportunities for executive jobs.  Here I want to look at the challenges still facing Egypt but also the areas where it is changing and opening up the country.
The Middle East is currently going through a sea change – last year I asked Have we reached the end of the road for ex-patriates in the GCC?  This had more than 50,000 views on my LinkedIn and hundreds of comments – and it clearly captured the debate and concerns of expats.
The expat exodus continues, but the question for many is should they return to their home country or are there still opportunities in the Middle East?  So I am looking at Egypt as possible opportunities for executive talent – and I believe there will be exciting roles for leaders in this country.
For the last 14 years, the World Bank has been investing heavily in measuring how global economies are progressing and clearly link the ease of doing business both to the success of the economy and most importantly to creating jobs. As an executive search firm, we are interested in those countries creating jobs because inevitably they will need to find executives to manage those jobs.
Chief executive of The World Bank, Kristalina Georgieva, says in the forward of WB's substantial report on Doing Business 2018
"… one aspect of Doing Business has remained unchanged: its focus on promoting regulatory reform that strengthens the ability of the private sector to create jobs, lift people out of poverty and create more opportunities for the economy to prosper. The notion that the private sector has substantial economic, social and development impact is now universally recognized. Responsible for an estimated 90% of employment in developing economies, the private sector is ideally placed to alleviate poverty by providing the opportunities to secure a good and sustainable standard of living."
So where is Egypt in global terms?  Well it has had a rollercoaster few years.  Its rank dropped to 128 in 2017, out of 190 countries covered in the report.  Ease of doing business in Egypt averaged 119.70 from 2008 to 2017.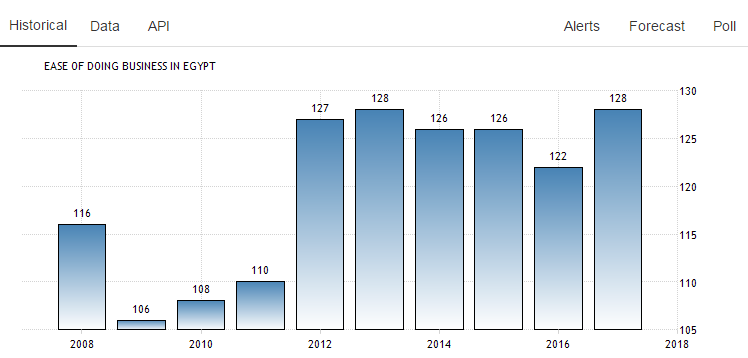 We should first look at what gets included in this measurement of 'doing business' and then see a number of areas where progress is being made.
The factors that The World Bank look at include how easy it is to start a business, the ease of trading across borders, protecting minority investors through to getting electricity and registering property.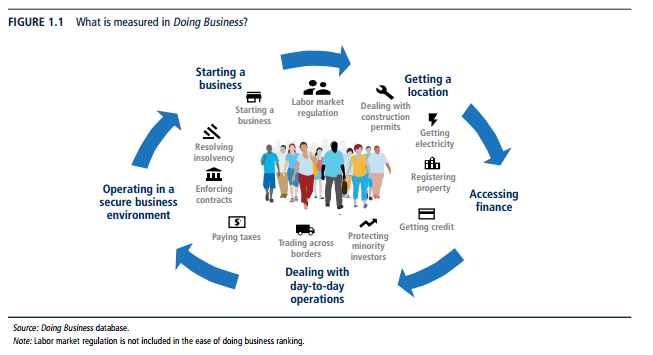 I looked at the economic reforms in Egypt in more detail in this earlier blog and The World Bank analyses how economic changes are affecting the ease of doing business.  And looking at this table, generally it is pretty positive.  The two negative effects have been trading across borders in 2017 – largely due to the cap on foreign exchange deposits and withdrawals for imports – and in 2018 they cite registering property as having been made more difficult because of raising the cost to verify and ratify a sales contract.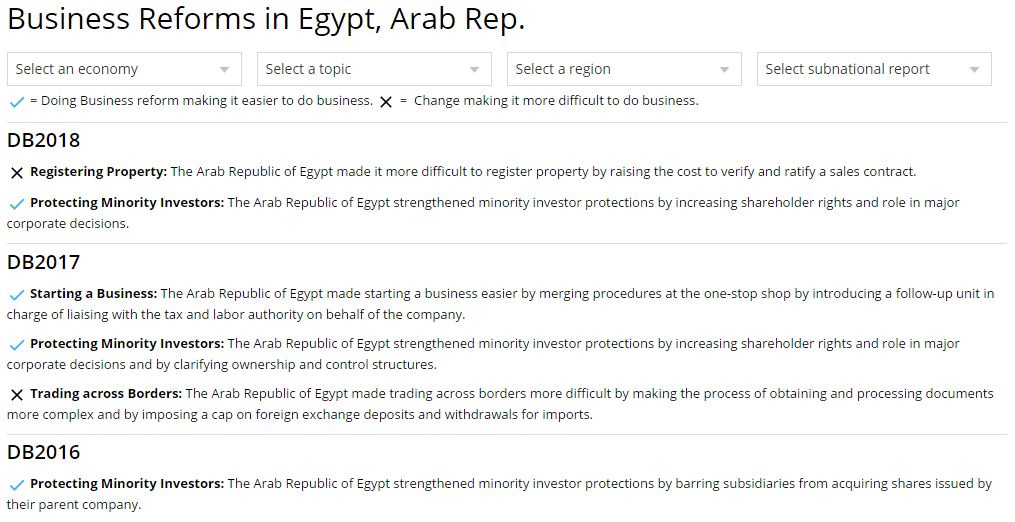 There are a number of areas where Egypt is making real progress and these put it higher globally in terms of doing business. Its best performing area is in dealing with construction permits – it is ranked 66 globally.  Egypt Today cites an example in the report of obtaining a construction permit and building a warehouse in Egypt, which costs just 1.9 percent of warehouse value, compared to an average of 4.3 percent in the Middle East and North Africa region.
It also references Egypt's role in protecting minority investors – it has strengthened minority shareholder rights over the last few years and now ranks 81 globally for this area.
Walid Labadi, Country Manager for Egypt, Libya and Yemen for the International Finance Corporation said: "Egypt has made ambitious economic reforms over the past few years, which have helped boost investor confidence and attract foreign capital. This year, the IFC has tripled its investments in the country.
Merza Hassan, dean of Executive Board and the executive director of the World Bank Group said, "There are signs that Egypt's economic reforms are starting to bear fruit. For example, we are seeing an increase in capital flow into Egypt, especially in the energy and manufacturing sectors. With Egypt starting the difficult reform process, I am confident that we'll soon see more investments and job creation. The current reforms are already adding a new dynamic to the market, which is going to reflect positively on the economy."
The areas of significant under performance are in paying taxes – at 167 globally – and trading across borders where it is at 170 globally.  An example given is that it takes 265 hours to obtain the right paperwork to import which is four times longer than the global average of 66 hours.
Egypt's economic reforms are now showing a difference in starting a business – this has more than halved to 14.5 days.
The Oxford Business Group in its analysis of The World Bank's report, says, "Official reaction to the report …. included criticism of the way data is formulated as well as accusation that it did not properly take into account Egypt's recent steps to make the country a more attractive destination for capital."
However it goes on to say that the government was quick to issue a number of policy announcements in the days and weeks after publication of the World Bank's report which if fully implemented will bring benefits to the business community in Egypt.
These areas included changes around
Streamlining ports
Tax collection framework to reduce the amount of hours businesses spend on taxes
Bureaucracy around tax and cross border trade
Bankruptcy law – abolish imprisonment and quicker to resolve affairs
Array to remove investment barriers
I am personally optimistic about doing business in Egypt.  It is a country I have worked in for many years, have many business friends and believe that the growth predictions will be achieved – and there will be opportunities for businesses and executive talent.
I would welcome discussions with organisations – both within Egypt and those looking at investment opportunities – to see how executive talent could help to achieve your ambitions.
Published in Egypt
Tagged under
business reforms Egypt
Doing Business 2018
economic reforms
Egypt
MENA
back to top