*/
Spotlight on leadership and cybersecurity in changing times
Metin Mitchell, Managing Partner, and guest contributors
Tuesday, 13 March 2018 09:08
Does diversity drive innovation?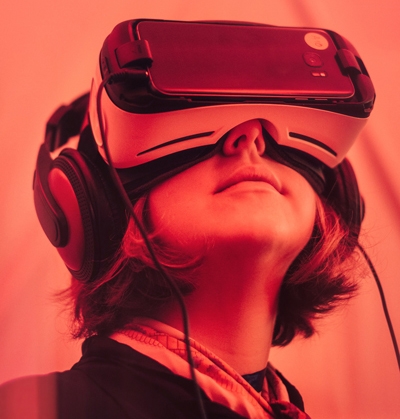 I am delighted to be on a panel next week, at the WIL Economic Forum in Riyadh, speaking on 'Diversity drives Innovation – here's why it works'.
In fact this is quite a challenging topic – everyone's instinct is to say, 'Of course, having more women and more diversity in an organisation will increase innovation'. In fact someone recently said, 'it is a no-brainer'. But where is our evidence?
I am looking forward to hearing the views of my fellow panellists: Ravi Kumar, head of human resources at Roche Diagnostics Middle East; Seta Tutundjian, director partnerships & knowledge development at International Center for Bisaine Agriculture; and Euan Hosie, HR country head – Gulf at GSK, with our moderator Eithne Treanor.
Our panel is particularly looking at the challenge for GCC countries that are transforming their natural resource-dependent economies and looking to STEM (Science, Technology, Engineering and Mathematics) skills to create more knowledge-based economies. While women outnumber men in the classroom, this has yet to translate to the job market
In this blog I want to look at my own experiences in GCC and how I see diversity increasing the rate of innovation. I have spent 20 years in the region in executive search, finding both male and female executives for top jobs and delighted to see how often women bring new ways of thinking and working to a business.
I was also privileged to interview a number of leading Saudi women for our report on Roads to the Top for Saudi Women – and draw on these extraordinary women's insights also.
Over the years, I have seen time and again that it is women who are the outstanding candidates on our shortlists. And many of the Saudi women I interviewed, gave examples of companies recruiting more women – especially into IT and technical positions – who then often outperformed the men.
So my first observation is that diversity – specifically bringing more women into the workplace – is driving performance. And when you get high performing cultures, you get innovation coming from this.
When researching to find more evidence for this, I found Rocio Lorenzo from Boston Consulting Group who carried out research to find this link between diversity and innovation. Her team surprised even themselves. Have a look at her Ted talk on How diversity makes teams more innovative – and linking innovation to performance.
She said that to see a big difference in innovation, you need more than 20% women in leadership positions – and when you look at the graph below, you will see the leap is astonishing – 10% more revenues.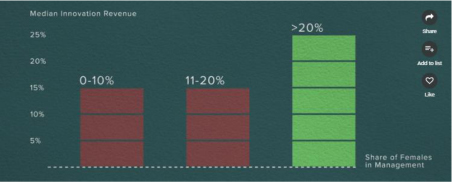 Rocio admitted that she had not seen diversity as a problem when she was younger – her university was 50/50 men and women and she didn't feel any barriers. But as she progressed in her career, she increasingly found herself the only woman in meetings. She had had a theory that as more women got higher education qualifications, they would naturally progress into leadership positions. As this chart below shows – how wrong was this expectation.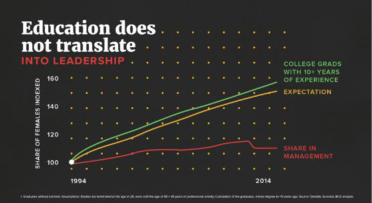 Rocio admitted they weren't sure about the 'chicken and egg' of their research (which came first – the chicken or the egg?!)
They don't know if more diversity leads to being more innovative and higher performing – or if more innovation leads to more diversity. But as she said, it doesn't really matter – the truth is that diversity meant more innovation and better business performance.
I will share the key findings from the conference next week – and more of my own thoughts on this topic. But in the meantime, I would love to hear from others who have evidence of diversity increasing innovation – and performance.
It does feel a no-brainer – but we need to back this up to convince those who are still sceptical!
Published in Leadership
Tagged under
jobs
professionals
back to top