*/
Spotlight on leadership and cybersecurity in changing times
Metin Mitchell, Managing Partner, and guest contributors
Tuesday, 14 November 2017 12:26
Could CFOs become redundant?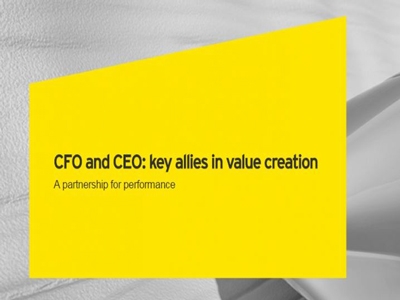 I am delighted to be speaking at the CFO Strategies Forum in Dubai, on 15/16 November along with 150 invited CEOs, CFOs (chief financial officers) and C-suite executives.
With me to create a lively debate will be an august panel of Dr Bernd van Linder, CEO, Commercial Bank of Dubai; Waleed Abu Eleiz, CFO, Alfa International; and Adham Gasser, Regional CFO, P&G.
The topic of our debate is around the relationship between the CEO and CFO and the survival of CFOs in the face of automation; could CFOs even become redundant? How do they need to change or adapt to help the CEO and stay relevant?
In our session, we want to discuss research recently carried out by EY into The CFO and the chief executive officer. This is part of their Partnering for Performance series which also looks at the partnership between the CFO and the CIO – a critical relationship in terms of the survival of CFOs.
Their survey of 652 global CFOs showed that the CFO role has been center stage in the financial crisis as CEOs relied on them to find cost reduction and strategies to shield against downturns in the economy. They became close allies of the CEO but this also meant reinforcing their cost management role and as economies have picked up, they now struggle to position themselves as a key strategic player in the future of the business.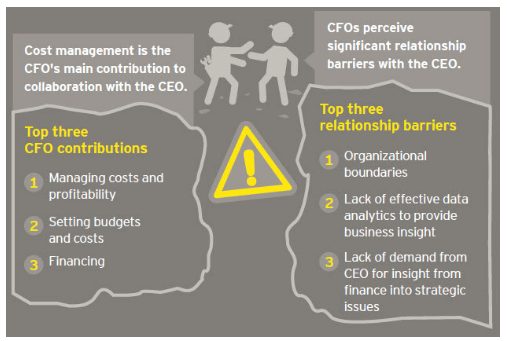 And this is a real risk for CFOs in the long term. Cost reduction will almost certainly be something that artificial intelligence (AI) and algorithms can do better than humans.
Research by McKinsey on Where machines can replace humans – and where they can't (yet) concludes "While automation will eliminate very few occupations entirely in the next decade, it will affect portions of almost all jobs to a greater or lesser degree, depending on the type of work they entail. " In the case of finance and management, they say 6 – 10% of time is spent on activities that could be automated. So it would be easy to think leadership roles are 'safe' for the forseeable future.
The danger is in that word 'forseeable'. Artificial intelligence has a way of catching even the experts out. In May this year, the world was shocked when Google's computer program AlphaGo beat the world's expert at the game GO – it had been considered unimagable for a computer to beat a human champion in this fiendishly complex game.
It is natural for leaders to think they are indispensable – but are they?
If we look at the challenges facing corporates in the next decade, what are they? They are the big decisions of globalisation – which country is best for what; and digital – strategies that are fit for a digital world, using data analytics, governance and oversight frameworks, and managing the legal and regulatory risks of digital. Even the old focus of 'staying close to our customer' now requires data and data management.
So where are CFOs in all this? You would say they should be at the heart of this new digital world? All of the digital challenges sit comfortably within a CFO's skillset?
Yet in EY's research only 18% say they make a very significant contribution to the shift to a digital business model and fewer than half are significantly involved.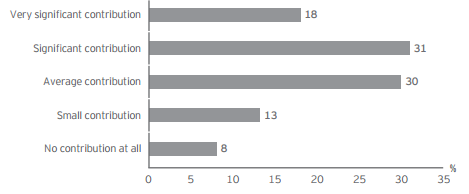 I believe this is a shocking admission by CFOs. How are they so sidelined in a critical business issue? We find the answer in another piece of EY's research looking at the relationship between the CFO and CIO. In this, CFOs admit the principal barrier to a close relationship with the CIO is their lack of understanding of IT issues.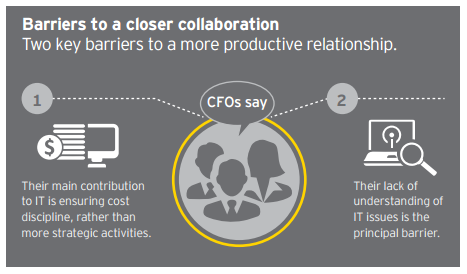 So what does EY think that CFOs need to be doing about this – they don't say 'to avoid becoming redundant', but I will say this for them.
They have a nine-point plan which includes understanding new digital business models – and new ways of financing these models; leveraging digital technologies within the finance function to improve data processing and reporting; having 'digital natives' within their finance team; and working with the board to develop a cyber security strategy.
The one thing they don't say, to put it brutally, is that if CFOs are to avoid becoming redundant they must themselves own the digital space. They need to understand IT and digital just as they do finance – know the dangers, able to ask the right questions and more importantly, understand and make a judgement about the answers.
Taking ownership of the digital landscape in their organisation will not only ensure CFOs are relevant and an acknowledged essential leader in their business, it will put them at the heart of the business and the close ally of CEOs.
I look forward to hearing the views of those on our panel – how important do they think this digital ownership is and what do they see as the skills for CFOs of the future.
Published in Leadership
Tagged under
artificial intelligence
ceo
cfo
chief executive officer
Csuite
digital business models
Dubai
EY
forum
Partnering for Performance
strategies
back to top